Dear Developers,
Mixtile team uses Eclipse SmartHome (ESH) for the hub. If you absolutely must use openHAB on your hub, you can follow this tutorial to install it on your hub. Keep in mind that we don't have the resources to help you if you encountered any problems with openHAB. This tutorial is written assuming you have experience using the terminal in Linux systems. Any mistakes you make during the process of this tutorial may render your hub nonfunctional. We recommend you resetting the hub if it is nonfunctional. If you wish to continue with this tutorial, please note that Mixtile is not liable for the damages you caused to the hub.
((Outdated)Video version here)
Make sure your hub is rooted (instruction here)
Download openHAB and openHAB Add-ons to your computer
a. openHAB 2.3.0 Stable Runtime (download here)
b. openHAB 2.3.0 Stable Add-ons (download here)
Create a folder "openhab" on your computer
Put the openHAB file ('2a') into the "openhab" folder then unzip it
Put the Add-ons file ('2b') into the "openhab/addons' folder
Open the terminal
Go to your openhab folder than copy your openhab folder into the hub
a. scp -r openhab user@*yourhubipaddress*:/home/user
ssh into your hub then get root access
a. ssh user@yourhubipaddress (password is the SN code in the back of your hub)
b. sudo -i (password is the SN code in the back of your hub)
Stop the mhub
a. systemctl stop mhub
Go to the the userdata folder in openhab then copy 3 files from your current mhub folder
a. cd /openhab/userdata
b. cp -rf /opt/mhub/userdata/openhabcloud .
c. cp -rf /opt/mhub/userdata/refreshThing.json .
d. cp -rf /opt/mhub/userdata/uuid .
Create 2 secure links to locations and jsondb
a. ln -s /config/mhub/userdata/locations/ locations
b. ln -s /config/mhub/userdata/jsondb/ jsondb
Go to the addons folder and copy mixtiles addons to the addons folder
a. cd ../addons
b. cp -rf /opt/mhub/runtime/concierge/system/org.eclipse.smarthome/com.mixtile.hub.* .
Go back to the folder with openhab and give access to mhub.
a. cd /home/user
b. chown -R mhub. openhab
Go to the opt folder then rename your old mhub folder to mhub-back (This way you can always switch back)
a. cd /opt/
b. mv mhub/ mhub-back
Then copy the openhab folder this folder with mhub name
a. cp -rf /home/user/openhab/ mhub
Give ownernship access to mhub
a. chown -R mhub. mhub
b. chown -R root. mhub/userdata/openhabcloud
c. chown root. mhub/userdata/uuid
d. (To see the ownernship of a file) ls -l
Go to the system folder and edit the 'mhub.service' file with vi
a. cd /lib/systemd/system/
b. cp mhub.service mhub_back.service (make a backup so you can always return to it)
c. vi mhub.service
d. (how it should look like after you edit it)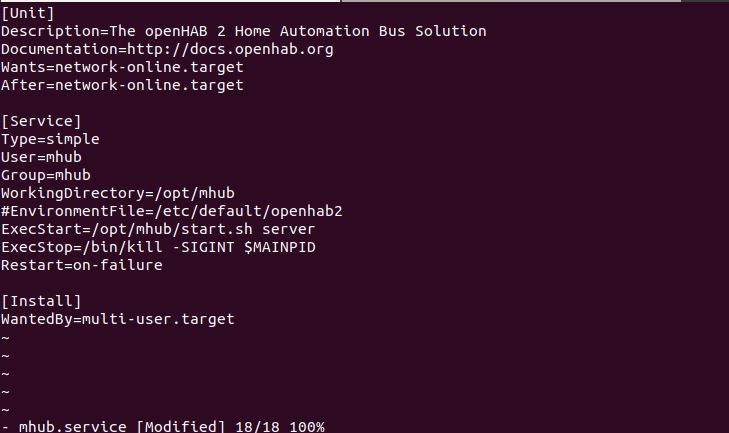 If you followed all the steps above correctly, you should be able to start the service. To start the mhub.service, write the following commands
a. systemctl daemon-reload
b. systemctl enable mhub.service
c. systemctl start mhub.service
d. (To see the journal of your service) journalctl -u mhub -f
Open your browser to access openHAB
a. yourhubipaddress:8080
Wait about 10 minutes for it to load and enjoy a cup a coffee/tea in the mean time.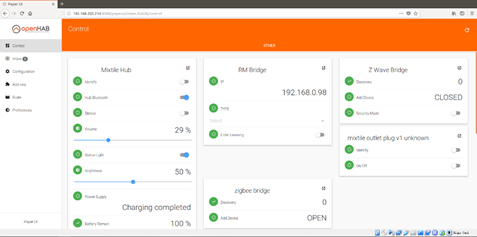 If at any point you want to go back to Eclipse Smarthome (ESH), you can either factory reset your hub OR do the following steps
Stop the mhub.service
Rename the current mhub folder to openhab and rename the mhub-back folder back to mhub. (see step 14)
Change the mhub.service back to what it was originally (see step 17)
Start the mhub.service (see step 18)